By
Andymanj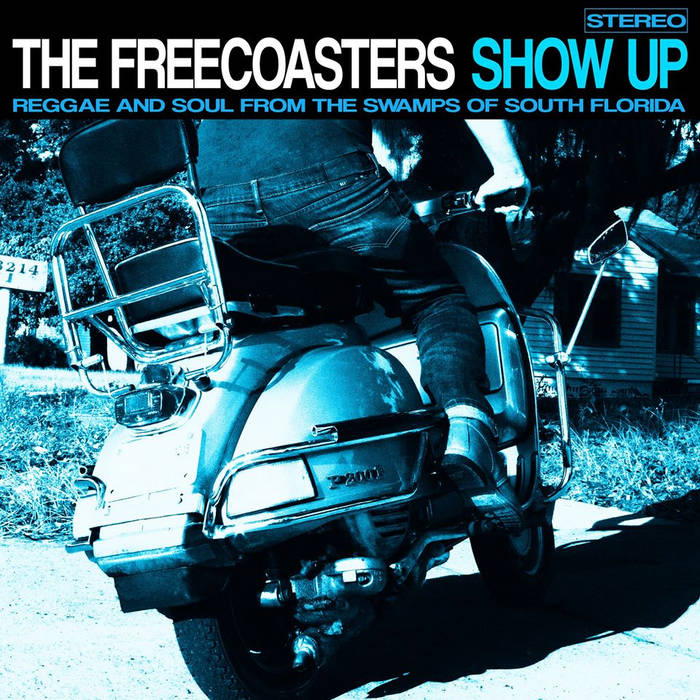 (Originally posted April 11th, 2016)
I may be biased but my current favorite female fronted ska, reggae and soul band just happens to be local. Over the past two or so years I've been fortunate enough to get to know John, Claire, Saul, Scott and David, a magical configuration of five talented musicians from Southwest Florida born from the ashes of the late Fort Myers ska band Brentford Sound. I first got to know the band through my involvement with the Citrus Records compilation, "Florida Ska: Closer Than You Volume 3." At that time, the Freecoasters were just getting started but it was clear during their performance at the CD release party that this quintet was special. Fast forward a couple of years and the long-anticipated "Show Up" is finally here!
The first word that came to mind after first hearing the album from beginning to end was "solid." From the get-go "Keep Moving" sets the tone for a collection of recordings that showcase the talents, incredible chemistry, stamina and soul in this band. No detail is spared when it comes to the meandering melodies entangled in booming b-lines and incessant beats. Each track is a symbiosis of sound, a multi-layered wilderness of toil and emotion that refuses to subside.
Though I'm impressed with the album as a whole and it's difficult to single out specific tracks,"Bring It On Back" and "I Can Sleep When I'm Dead" are two of my favorites on "Show Up." There's a certain attitude about these two tracks that makes is difficult to resist bobbing my head. That said, every song on the album has a physiological effect. You can't not dance! But on a deeper level, I feel that "Show Up" is an amalgam of passion and experiences, struggles, hope and determination.
Their first full length album was produced by Jesse Wagner of the Aggrolites who subjected the band to what they describe as "reggae boot camp." To launch the album, the band embarked on a Kickstarter campaign last Summer and a mid-summer tour with no breaks. Their campaign was a big success with over a hundred donors helping the band achieve a stretch goal of releasing the album on vinyl. Of course, after hearing the album or, even better, seeing the band live, their success is no surprise! Check out "Show Up" at https://thefreecoasters.bandcamp.com/.
By
Andymanj
(Originally Posted August 25th, 2015)
Do you like to give a new album a listening to in the order in which it was produced while resisting the temptation to skip to the track that made you pick up the album in the first place? If so, General Tso's Fury has a sweet reward for you in it's newish album, "Where Has the Music Gone." I say "newish" for the fact that a fan favorite, "Cereal Time," the catalyst track that might drive people unlike the aforementioned to buy the album and jump to track 5, is already a couple of years old. Of course, in General Tso years, their tracks never grow old and neither will this album!
So let's do this in order. Track 1: "Hypertension." The obligatory "Set the tone" tune for the album does just that. High energy. Fury, if you will. From the get go. Ama-zingy guitar on this one and some insane drum action certainly helps the song live up to its name. Of course hypertension is a condition which may lead to a heart attack and, along with the fiery brass on the second track, "I Look Better When I'm Naked," your heart is already pounding and there are still 11 more tracks to go. We are in trouble!
GTF continues to deliver on the promise that we're in for an ass-kicking both musically and lyrically in its declaration of hate for our friends, pets and home appliances in the third equally heavy hitting track. They just don't let up!

Or do they?! "Fist Bump" lightens the mood a little and provides a moment of release from the headlock GTF has on us in the first 3 tracks. I love the "saucy" horns on this one and the guitar solo that happens around a minute and 45. This brings us to the song that most have heard prior to this album, "Cereal Time," another light-hearted catchy ska jingly tune that reminds me Suburban Rhythm for some reason. You can't help but smile at the promise of heaven if you bring Jesus a box of cereal when you arrive at the pearly gates. Thanks for the heads up GTF!
The momentary lift is soon over as hell-fire ensues for "Spoiler Alert." This one seems to follow a similar blueprint to "These Shoes" from GTF's first EP. An overall quick tempo throughout that intuitively transitions to a slower syncopation overlaid with "tell it like it is" vocals and heavy trumpet about three quarters through the song.
"Q & A" showcases the vocals more than other tracks on the album. Meanwhile the tightness of the horns and the alternation between a quicker ska beat and a slower groove make this one of my favorites. Suddenly a soundbite from one of my favorite movies, "Office Space," welcomes track number 8, "Joel Sux," a snarky celebration of the irresponsibility of GTF's lead guitarist. Starting with some quick paced punk fanfare and building into some light, fluffy ska about midway through, this song is both bad-ass and fun, lyrically and instrumentally.
"Rock, Paper, Scissors" is a bit of an excursion on this album that transports you back to third-wave land with and then they get all hardcore with an insane guitar solo. This one is great showcase of the eclectic talent and diverse styles that characterize General Tso's Fury.
"Where Has the Music Gone" is full of surprises and the tenth and eleventh tracks are no exception. "Suck It Up" rolls out with some Ben Folds-esque ivory banging and some reinforcing lyrical cadence that progresses into some faster paced rock. Just when you're scratching your head thinking "Where did that come from?," they jump in with another twist in "Cougars." This song is a hodgepodge of styles that provokes alternation between head nods and swaying. It feels a bit schizophrenic.
"U-turn" puts the album back on track while giving the horns a bit of a break. General Tso's Fury burns it up with a nice quickie of a punk song just before closing out with a ska-core anthem, their title track. "Where has the Music Gone" is an incredible finale that encapsulates much of what I love about this band: melody, lyrics, power. General Tso's Fury has certainly "turned homicide into art" with this release which , from beginning to end, is one hell of a tantrum with ample twists and turns to keep you guessing "what's next?"
Check out General Tso's Fury on Facebook at https://www.facebook.com/GeneralTsosFury
Give the album a listen (and buy it) at https://generaltsosfury.bandcamp.com/album/where-has-the-music-gone
By
Andymanj
(Originally posted April 24th, 2015)
"From Far," the newest release from Pilfers, is appropriately titled. Fans of the band have waited 16 years, "far" too long. For those of you, like me, who loved the band that captured the spirit of the third wave through its fusion of ska, reggae, hardcore and metal, the new release does not disappoint! The original lineup, minus their original trombonist, Vinny Nobile, still manages to weave varied tempos, bouncy b-lines, toasty vocals and innovative melodies into a sound unlike anything you've heard. For the uninitiated, Pilfers pack a punch. Expect the unexpected!
Right off the bat, the first track sets the tone. "Nothing's Ever Good Enough" kicks off the album with driving rhythmic riffs interrupted by a punchy "raggacore" chorus. The "surprise element" is a big part of the Pilfers trademark and continues to be a theme throughout "From Far." This brings me to the second song, the title track of the album. "From Far" is an aural autobiography that takes the listener on a journey from 97 underground NYC to "across the country" and beyond. Coolie Ranx tells their story through a steady toast in each verse. Meanwhile, the accelerating tempo and crescendo of the instrumental build up to an explosion in the chorus and some "Big Ups" to the OPC (Original Pilfers Crew) and bands worldwide.
Tracks three and four provide a showcase of Pilfers' strings. "Done Nothing Wrong" features some great guitar work from Nick Bacon while Anna Milat-Meyer's climbing bass arpeggios and the cameo by Bosstones' trombonist Chris Rhodes make "Easy Man" one of my favorites of the album. Track five, "Follow You Blind," is a slight excursion and almost seems to serve as an intermission for the album. The slowed steady beat brings your heartrate down but not for long. As soon as the eye of the storm passes, "Drowning in You" resuscitates the familiar surge that is Pilfers with an added surprise of guest female vocals from Patricia Verdolino from Metro Stylee.
As if caught by surprise in the first half of "From Far," "Sound the Alarm" is the delayed reaction announcement that "Pilfers are back!" At first listen this song seems out of place and that it should come early in the album. However, considering the story of the Pilfers, track seven is where it should be, as if we didn't see them coming.
What I love about "Conscience Never Bother Them" are the accents of Kevin Batchelor on trumpet crowning the guitar and heavy bass encapsulated within the syncopated beats of James Blanck on drums. Like "Follow You Blind", tracks nine and ten, "Lately" and "History of Love" provide another respite from the high energy of the preceding songs. The steady slower beats of these tracks are short lived, however, as "Let it Rain" brings back the heavy, fast paced storm of sound fading out with "Jack's Ashes."
"From Far," as expected, defies expectations. While the same blood that pumped through the veins of "Chawalaleng" continues to flow through "From Far," the new Pilfers release is a unique experience. With no loss in momentum from the band's youth, Pilfers has come far and I look forward to seeing where they go next.
Visit http://pilfers.storenvy.com/ to purchase "From Far" and tune in to SKAspot Radio at http://skaspot.com/radio to hear music from Pilfers and more!
Reggae Steady Ska
Getting schooled—an interview with the authors behind Alpha Boy's School: Cradle of Jamaican Music

30 Jan 2018, 10:56 am

As of this post, Adam and Heather have never been in the same room. Heather lives near Chicago and Adam in Brighton, UK, and the book was an online collaboration. I figured it worked for them so we did the same with this interview. Alpha ...

Public Voting Results Album And Video Of The Year 2017

22 Jan 2018, 10:25 am

The polls for "Album Of The Year 2017" and "Video Of The Year 2017" are over. Here are the top 3 of every category. To see the whole results, please check the voting pages. Albums: Heavyball – When Can You Start (England), ...

The Reggae Steady Ska Albums Released In 2017

14 Jan 2018, 7:45 am

Throughout 2017, we compiled a list of album releases by artists relevant to the Reggae Steady Ska community. These are all new albums, no re-releases, no compilations, no best of records. Have a look and see the results of the Album Of The Year ...

Voting For Our Album and Video Of The Year 2017 is now open

14 Jan 2018, 7:39 am

The Polls are closed. Thanks for voting. Let's do this again. We have been asked quite a lot about our annual polls. Yes, we skipped them for a while. And yes, we'll have another go for 2017. The weeks around the polls are usually quite hectic, but ...

Reggae Steady Ska Album of the Year Poll 2017

14 Jan 2018, 7:34 am

Voting is closed. Here are the results: The post Reggae Steady Ska Album of the Year Poll 2017 appeared first on REGGAE STEADY SKA .
Nude Beach Ska Podcast
Nude Beach Ska Podcast - Episode 41

18 Feb 2018, 9:09 pm

The 41st episode! I (Jack Brew) am here to play you some of my favourite ska, reggae and ska punk tunes from around the globe! Today has a distinctly ska punk/ska core theme Skankin' Pickle - I'm in love with a girl named Spike Stand Out Riot - Count ...

Nude Beach Ska Podcast - Episode 40

31 Jan 2018, 7:14 pm

The fortieth episode! I (Jack Brew) am here to play you some of my favourite ska, reggae and ska punk tunes from around the globe! Playing you some more tracks on my search for a ska covers band playlist The Aggrolites - Complicated Girl Desmond ...

Nude Beach Ska Podcast - Episode 39

21 Jan 2018, 5:05 pm

The thirty-ninth episode! I (Jack Brew) am here to play you some of my favourite ska, reggae and ska punk tunes from around the globe! This episode i am playing from some of my recent purchases that i have been listening to The Wailing Souls - Fire ...

Nude Beach Ska Podcast - Episode 38

31 Dec 2017, 7:26 pm

The thirty-eighth episode! I (Jack Brew) am here to play you some of my favourite ska, reggae and ska punk tunes from around the globe, BUT! ... this episode i am doing it with the helping hand of guest co-host Tony who is the bassist in uk reggae band ...

Nude Beach Ska Podcast - Episode 37

12 Dec 2017, 10:55 pm

The thirty-seventh episode! I (Jack Brew) am here to play you some of my favourite ska, reggae and ska punk tunes from around the globe! This Episode is all about Moon Ska Records, the now defunct 90's american ska label run by Bucket of The Toasters ...
Duff Guide to Ska
Duff Review: Heavyball "When Can You Start?"

16 Feb 2018, 10:49 pm

(Review by Steve Shafer)Heavyball When Can You Start? (digital and gatefold LP, Magnetic North Melodies, 2017): Their debut 2015 album Black Eye Diaries featured a super ska cover of Bronski Beat's mid-'80s synth-pop ...

Duff Guide to Ska Fast Takes: Desorden Publico "Bailando Sobre Las Ruinas"

14 Feb 2018, 3:20 am

(Review by Steve Shafer)Desorden Publico Bailando Sobre Las Ruinas (pink, red, yellow, olive green, sea green vinyl LP with artwork by CHema Skandal, Jump Up Records, 2017): This limited-edition record (200 copies) was released in the USA to coincide ...

The Duff Guide to Ska Fast Takes: The Autocratics "The Autocratics," Soweto "Turn On the Music Again," Wild Man Riddim "Worldwide Frequency," and Doctor Bird Reissues!

9 Feb 2018, 2:03 pm

(Reviews by Steve Shafer)The Autocratics The Autocratics (CD, Ska in the World Records, 2017): This powerhouse Japanese band is heavily influenced by 2 Tone--The Specials and Beat, in particular, and The Autocratics shamelessly nick bits of their songs ...

The Duff Guide to Ska NYC Winter/Spring 2018 Ska Calendar #2

8 Feb 2018, 7:30 pm

Friday, February 9, 2018 @ 9:00 pmHR and Human Rights, Crazy Baldhead Dub ApparatusEl Cortez17 Ingraham StreetBrooklyn, NY$15/21++ + + +Thursday, February 15, 2018 @ 8:00 pmThe Wailers, The Far EastBrooklyn Bowl61 Wythe AvenueBrooklyn, NY$20/21++ + + ...

Duff Review: Various Artists "Gifted: A Ska Tribute to The Jam"

7 Feb 2018, 3:42 am

Specialized UK/Jump Up RecordsRed or white vinyl LP2018(Review by Steve Shafer)Gifted is the latest in a series of excellent ska tribute/Teenage Cancer Trust benefit CD compilations from Specialized UK, which have been released in part on vinyl by ...
DThrog Ska Review
Oooops, there appears to be a problem with this feed!