By
Andymanj
Last month (July 2016), I had the opportunity to meet up with some of the ska (and a couple of non-ska) acts on the 2016 Warped Tour at Vinoy Park in St. Petersburg, Florida. Joining me to help interview and photograph the bands was Tampa Bay's favorite uke fronted ska band's bassist, Nic Giordano of UNRB. I split the SKAspot Review into three parts due to length the blog would have been if I didn't. To make it easier for you to find the bands you'd like to read about, I decided to post this entry. In addition, I've included a video of some of the footage I captured. Enjoy!
SKAspot's 2016 Warped Report Part 1
Review of New Found Glory's Set
Review of Less Than Jake's Set
Interview with JR (LTJ Saxophonist)
SKAspot's 2016 Warped Report Part 2
Interview with Kevin and Justin of The Interrupters
Review of The Interrupters Set
SKAspot's 2016 Warped Report Part 3
Review of Reel Big Fish's Set
Interview with Michelle Beebs and B-Lay
Review of Beebs' Set
Interview with Dan and Cody of Set It Off
Photos from SKAspot's Coverage of the Warped Tour

By
Andymanj
Originally posted on July 14th, 2016.
Unfortunately, I had to pass up my interview slot with Reel Big Fish in order to check out The Interrupters' set. It was a difficult sacrifice however I did still get to catch their set. As is to be expected, Reel Big Fish drew a huge crowd to the left foot stage and getting to spend the first three songs in the photo pit was a blast. Since the last time I saw them (and interviewed Aaron and Ryland), Aaron's trademark "chop-burns" welcomed a "soul-patch sister" to the family. Also, trombonist Billy Kottage, who at my previous RBF experience was a recent addition to fill the slot left behind by Dan Regan, now seems like he's always been part of the family. Another noticeable difference was Ryland Steen wasn't there. Filling his spot on drums is Suburban Legends' Ed Larsen. I later found out that Ryland is currently on tour with America (the band).
Aside from the couple of "staff changes," Reel Big Fish sounded as great as ever, playing through some of their more popular tunes including "Beer," "Sell Out," and "Another F.U. Song." Joining RBF on stage for "She Has a Girlfriend Now" was Michelle Beebs who I had the opportunity to interview. Of course they also demonstrated their mastery of all musical styles by playing about 6 versions of "Suburban Rhythm" ranging from disco to country and even some death metal. It's amazing to see, even after 25 years, Reel Big Fish has not slowed down.
Earlier in the day I interviewed Michelle Beebs who I had previously met while her band, Beebs and Her Money Makers, was on tour with Reel Big Fish and Goldfinger. Beebs has been an important member of the Warped family for the last few years, performing with her band and starring on Fuse TV's "Warped Roadies." For this year's Warped Tour, she's playing her music from her solo project along with rapper "B-Lay" (who joined us for the interview).

Andy: The first time I met you was when you were touring with Reel Big Fish after spending the Summer on the 2013 Warped Tour. You also were featured on Warped Roadies. Needless to say, Warped has been a big driving force in your success as Beebs and Her Money Makers. Besides Warped what are some of the other factors and/or key players that have help you achieve success both with the band and in your solo work?
Beebs: Kevin Lyman obviously. Reel Big Fish have been a huge cornerstone for Beebs and Her Money Makers. But also I have some really great friends who are music business people who have been great mentors to me: Ana Reina, Maggie Sumner, my band, and pretty much all my friends who encourage me. I came from doing music business and being a booking agent and a tour manager and band manager and being inspired by those bands and the ones I was working for and the music scene. I started singing with some of the bands I was working for and they were like "What? You sing?! What's going on?!" I was like "Yeah." "What are you doing here?" I'm like "I don't know…" So I'd say I find inspiration in all the people I meet. There are definitely a few key players but I do find inspiration from everything. Oh, and Brett Hestla! He produced my new album. I can't forget that guy! He crushed it and made the whole album happen.
Andy: And B-Lay, who were some of the key players and inspirations for you?
B-Lay: I'd say Deuce from Hollywood Undead first. I toured with him. Ronnie Radke of Falling In Reverse. Actually I learned a lot from Mr. Porter, Eminem's hype man. I knew him back in L.A. He helped me write. I learned a lot from a lot of people I hang around a lot. Beebs – I watch here record and stuff, how she writes her music. I just take a lot of inspiration from the people I've hung around with for the last six years. Brett Hestla is also on my new project as well.
Andy: From the moment I saw BAHMM hit the stage I knew there was something different/off the wall about you guys. Seeing the costumes alone were worth the price of the ticket that I didn't pay for because I had a press pass (laughs). Nevertheless I would have paid just for the stage show (laughs). The stage show with the robot guy and the confetti canons were like icing on the cake. Then of course is the music which includes use of a kazoo. What is the inspiration behind the look of BAHMM and the stage show?
Beebs: Okay – I'll tell you the real story of how it all started. I'm a longboard skater. I was bombing garages with a friend in downtown Orlando. I had just started the band. I had a show coming up -It was a benefit. I hit an oil slick going down the parking garage and "raspberried" the whole right side of my body. My friend, at the time, was making my dresses and stuff for shows. I went to her and said "You have to make me something that covers my entire body because I have road rash everywhere!!" Hence- it started with stockings and arm warmers to cover all the terrible bruises and road rash I had gotten and then that evolved over time. At first it was like "we're all bank robbers" and then I said "No! We're superheroes. Yeah – We're bank robbing superheroes! We take from the rich and give to the poor!" And then I was like "Wait – I don't know if we should be robbing people. I don't care how you put that, it's not right. How about we're just superheroes who spread love and positivity and also hang out with hot dogs and robots and unicorns!?" Then everyone agreed "Allright – that sounds good." So that was the evolution of Beebs and Her Money Makers but it all started on a skateboard!
Andy: With BAHMM, the ska connection is obvious but there are definitely hints of other styles like funk and soul. Who are your ska and non-ska musical influences?
Beebs: OK – Well obviously Reel Big Fish. I've been listening to them forever! The Specials, Skankin' Pickle, The Skatalites… Also I grew up on punk rock. I'm definitely a punk rock kid. I came to Warped Tour all the time. Rancid's one of my favorite bands, Bouncing Souls, NOFX, Pennywise, The Descendents… And also, before I rebelled and said "Eff you Mom and Dad! I'm listening to punk rock!" I grew up on old country western like Willie Nelson, Patsy Cline, George Jones and then was really into 50s music, on my mom's end, with Chuck Berry, Little Richard. And… definitely George Clinton and the Parliament Funkadelic and Earth, Wind and Fire are huge musical influences to me as well as 90s hip hop.
Andy: B-Lay, Who are your musical influences?
B-Lay: I grew up on a lot of rap music. My first tape was Bone Thugs n Harmony… Tupac, Biggie, Eminem. I got into the rock side in my late teens. I love Nirvana, Aerosmith, Prince, Michael Jackson, David Bowie. David Bowie didn't care what you thought of him. He was a showman. "I'm gonna put on a show and entertain you! I'm gonna look good. I'm gonna put on girls' clothes, be fresh, I'm gonna kill it!" I love Johnny Cash and Bob Dylan. I love a lot of different genres now because I feel I appreciate that it takes a lot of passion and honesty in your lyrics and your melodies to make people want to listen to it. I love melodies and patterns.
Andy: In your solo work, you seem to transform from a comic book superhero back into someone more human and "real." It reflects the "multi-faceted" nature of you. Do you find it challenging to switch between the more theatrical Beebs and the raw Michelle?
Beebs: I'm not even going to lie – yes! I feel like the solo project has been really near and dear to my heart because it's a lot of the songs that I've been writing that I feel just didn't fit with Beebs and Her Money Makers but I really wanted to put out. I made them with a lot of passion and thought. I feel that everyone just thinks I'm a cartoon character then they're like "Oh- she's a real person." When you're used to being in one energy when you play- now I feel like I'm exposed and have to be myself and it's terrifying. If someone's like "Beebs and Her Money Makers sucks!" I'm like "Whatever! That someone I created. I don't care!" But if someone says "Michelle Beebs sucks!" that hurts. It's different. I mean – I don't let it affect my day too much but it's just different. I feel more exposed. Also I play guitar in my solo work. I've played guitar for years by myself, in my living room writing songs, but to play in front of people, and also getting used to the fact that I'm used to doing choreographed dance moves and jumping around… now I've got this guitar and I'm very limited to where I can go unless I get a "Bobby Brown" microphone which I can't do because I'm not Bobby Brown. Is it hard? I think it's good to show a more genuine side of myself. It's like Clark Kent and Superman. Superman was bad ass. Clark Kent was also bad ass but on the "low key." I feel like I'm just taking pointers from Superman at this point.
Nic: Not a bad person to take pointers from! (laughs)
Beebs: He's my current spirit animal.
Andy: Any last words?
Beebs: Yes- half of the Money Makers – Lovelady (guitar), Bruno (drums) and Levon (bass) were kind enough to learn the songs for my single album and back me on the Warped Tour. Shout out to the Money Makers and Bunky also played on the album. Everyone's been very involved. Also - Everyone's like "Are Beebs and Her Money Makers breaking up? Are you Gwen Stefani-ing us?" No – I just have other music I wanna play. That's all!
During her performance at the Poseidon Stage later that day, Beeb's played some of her new music including my favorites from her new album "Ride Around the Sun." With some of the Money Makers and B-Lay backing her, Beebs performed with no costume: just her, her guitar and her incredible voice, meandering through rock, funk, pop, and hip hop. B-Lay also got to show the crowd what he's made of, performing one of his songs and showing off his free-style abilities. While most of Beebs' set was a departure from the ska of the Money Makers, she did bring Aaron Barrett and the Reel Big Fish horns to perform "I'm Not Crazy."
Be sure to check out Beebs on her new album "Eye Shine" available on iTunes. She also has a GoFundMe at https://www.gofundme.com/BeebsEyeShine where you can donate to help cover the costs of recording and releasing the album. In return there are some awesome perks including a physical copy of the album and even a personal acoustic show and pizza party. B-Lay also recently crowd-funded a release of his new EP. To learn more about B-Lay, visit http://www.blaymusic.com/.
One of the perks of experiencing Warped with Nic Giordano is that he seemed to know a lot of the musicians. Whether it was from UNRB playing shows with them or his natural charm, Nic could spot someone and strike up a conversation. He came to Warped with several copies of UNRB CDs to give out and was on a mission to give a CD to anyone he spotted wearing a UNRB t-shirt. I'm not sure what the count was by the end of the day but I know he spotted a few. Being from the Tarpon Springs area, Nic had a connection with some musicians in the band Set It Off, a self-described "orchestral pop punk" band from the Tampa area. Though Nic had to leave a little early, he did me the favor of introducing me to Set it Off's guitarist Dan Clermont and singer Cody Carson and setting up an interview with them. Though they don't play ska, we did discuss their connections to ska music.
Andy: Having been on the road for over a week now, how would you describe this year's Warped experience from a musician's perspective?
Cody: Surprisingly very smooth. There's been nothing wrong, no drama, friendship is off the charts… it's been a blast so far. I have no complaints.
Dan: The best qualities of Warped over the years have all been bound together this Summer and it just works.
Andy: Which bands are on Warped this year that you feel people should be on the lookout for?
Cody: Waterparks is one for sure. They're friends of ours that are on the same label as us, Equal Vision Records. They're a really talented band and a lot of people like them. Cane Hill.
Dan: Cane Hill's a great band.
Cody: They're really, really heavy. They bring back the best stuff from the new metal age that I missed.
Dan: We've been huge fans of this band but never toured with them – New Found Glory. A few of their guys started coming up and talking to us.
Cody: A few years ago I came to Warped and got a backstage pass for donating blood and the only person I wanted to meet was Cyrus Bolooki. He was my favorite drummer when I played the drums in a ska band. I loved his drumming and his nuance and I got to meet him here at Vinoy and he was just the kindest person in the world to me. Now he just watches our set sometimes and is really into what we're doing so it's really surreal.
Andy: You mentioned having played in a ska band. You don't currently play ska. What are your ska connections?
Cody: A lot actually. My first band ever was a band in the area called Exodus 2017. I played drums and did backup vocals. I was a huge fan of Reel Big Fish and Five Iron Frenzy. Five Iron Frenzy was the first band I ever got into that wasn't like R&B or pop music. I was in love with them. I heard "Pre Ex Girlfriend" and that was it for me. That eventually led to a friendship with Five Iron – Buddy and Leanor started coming to our shows. They let me come see them at Plaza Live, a theater in Orlando (after they reunited). It was my first time seeing them because they had originally broken up before I could. It was so sad. One of the coolest things was the sax player for Reel Big Fish, Matt Appleton, we got connected with him on Warped Tour. We just became friends through our mutual love of beer and just how nice of a guy he is. He ended up being involved on our record "Duality." He wrote a lot of the horn lines and he played horns. We (Dan and Cody) always played a lot of horns. We met in marching band in the Tarpon Springs High School marching band. Dan played trumpet and I played clarinet. I also know how to play tenor sax and stuff but he's (Matt Appleton) beast on horns. We're actually trying to organize getting Reel Big Fish to come on stage during our song "Wolf in Sheep's Clothing," the horn players. So we have lots of ties to ska music, lots of respect, and we're glad to be back in touch with it.
Andy: What has been your strangest touring experience?
Dan: I'd say – we toured 5 years ago with this band called the Millionaires. It was our first professional touring experience, performing in front of a few hundred people at big venues and it was the first time we saw a tour where people partied so hard too.
Cody: Yeah – That was definitely eye opening. And also what's cool about it is our tour manager, Riley, was managing them at the time. Headliners can kind of determine whether or not you have a good time. We got along with the headliner so well and Riley and stuff that they'd invite us on their bus and make us hotdogs and we're like these kids in a van and don't know what a bus is like.
Andy: Where is the strangest place you've woken up?
Cody: In a sandwich! (laughs) We were staying at someone's house. I drank too much Yaeger…Walked to Jimmy John's somehow. Walked back, opened my sandwich to eat it and I guess I woke up on top of my bread and under my bread. I guess I was the sandwich. I don't even know how that happened. I woke up to a "domestic disturbance" where we had to immediately evacuate so they had to drag my drunk ass out of there but… yeah – I woke up in a sandwich on an air matress!
Dan: I can actually attest. Mine was probably the same night because after that we all soon blacked out and soon woke up in a van in a different state for the next show. Somebody drove us to the next place.
Cody: I have another one. It was "Sink or Swim" night at the Orpheum in Tampa and I drank beer intentionally so I wouldn't get too drunk and I guess I got "Roofied." I didn't know that could happen. I started talking to dogs. I peed on our van and I woke up naked on a couch at this apartment we were staying at and Dan was playing a South Park game on a Nintendo 64 in front of me. It was quite an eventful night.
Andy: Favorite TV show?
Dan: Game of Thrones.
Cody: South Park.
Andy: What's your favorite reading material?
Dan: Shel Silverstein.
Cody: Bleacher Report.
Andy: Phobias?
Dan: Spiders.
Cody: Snakes.
Andy: Favorite academic subject in school?
Cody: Math was actually my favorite because I feel like I got a grasp on math somehow. Science – I was terrible at.
Dan: I loved science.
Andy: What's your spirit animal?
Cody: I don't know if you can name your own spirit animal.
Dan: How about we name one for each other.
Cody: OK – what's a lively and acrobatic animal?
Dan: I was gonna give you a shark.
Cody: Shark? Why shark?
Dan: Because you're very quick, aggressive and focused.
Cody: I'm gonna say "you're a dog" because you're so friendly, everyone loves you and you're loyal.
Dan: 16 year lifespan!? What's the fun in that?
Cody: How long do shark's live?
Dan: I don't know but crocodiles have a 43 year lifespan.
Andy: Facts brought to you by Set it Off. Meat or potatoes?
Both Dan and Cody (in unison): Meat!
Cody: Easy – steak. I love steak!
Andy: Stage or studio?
Dan: That's ever changing.
Cody: I'd say, at the moment, stage. I want everyone to hear our music.
Be sure to check out Set It Off's website at http://setitoffband.com/ to learn more about them and hear some of their music. Their newest album, "Upside Down," drops on October 7th.
To wrap up SKAspot's review of this Summer's Warped Tour, I'd like to thank everyone who helped make it happen: the bands, their crews and managers, Nic Giordano of UNRB for joining me on this adventure, Danielle Mardahl and Warped Press, Mike Cubillos and Earshot Media, the security at the photo pits, the Cool Gear folks for keeping me hydrated with their free water, and, of course, skanking Jesus. I'd also like to thank (and apologize to) the guys from Less Than Jake who put up with my incessant requests for an interview and even got some text messages from some of their family members. I found that SKAspot was the only "typed in" name on the list for an interview with Less Than Jake. Also, thank you to Kevin Lyman for keeping Warped going for the past 2 decades and keeping ska bands in the lineup.
Check out more photos from the Warped Tour in St. Pete in the SKAspot Warped Gallery.
Read SKAspot's 2016 Warped Report Part 1
By
Andymanj
Originally posted July 8th, 2016.
After we meandered through the city of band merch tents and booths supporting various causes, Nic and I ended up in the photo pit at the Poseidon stage where we got up close for The Interrupters' set. For those of you who aren't yet familiar with The Interrupters, you've missed out. Of course you've probably heard the band whether you know it or not. Their hit "Take Back the Power" from their self-titled album was used in a T-Mobile commercial. It probably says enough about the band that Tim Armstrong has been involved with them both through his own Tim Timebomb and Friends project as well as producing their last two albums. His influence is definitely noticeable in their sound. Nonetheless they are distinguishable. Fronted by Aimee Interrupter with three brother backing her, Jesse, Kevin and Justin Bivona, the quartet plays upbeat ska punk with a bit of a 2 tone feel and look. Arguably one of the most danceable acts on this Summer's Warped Tour, The Interrupters' set exceeded expectations as their sound was as tight as their recordings and the energy was certainly contagious as they had most of the crowd skanking as soon as they hit the stage.
The Interrupters kicked off their set with "Haven't Heard the Last of Me," a song, like many of theirs, that is conducive to crowd participation. As the audience sang along "Na na na na na… you haven't seen the last of me!" Aimee crisscrossed the stage, engaging the crowd in every direction. The set continued with an awesome selection of tracks from their first album such as "Liberty," "White Noise" and "Take Back the Power" as well as some covers including Marley's "Judge Not" and Op Ivy's "Sound System." Every song had the crowd dancing, even Jesus Christ, himself. You read correctly, a man dressed as Jesus joined the pit for some circle skanking. If SKAspot's endorsement of The Interrupters isn't enough for you, hopefully the "divine" endorsement is! Aimee got up close and personal with the crowd, leaving the stage and coming up to the front barricades of the pit as the band wrapped up with "Family." Aimee summoned the audience to come in close as we were all "inducted" into The Interrupters' family. Beyond the "warm fuzzies" of belonging, The Interrupters left the crowd energized despite the sore feet and sweltering heat.
I met up a little later with Kevin and Justin Bivona for an interview where we discussed their influences, work with Tim Armstrong and their new album "Say It Out Loud" which was released June 24th on Hellcat Records.
Andy: Tim Armstrong and Rancid/Op Ivy are clearly influences on your music. What are some other of the ska and non-ska musicians/bands that have influenced/inspired you?
Kevin: We'll start with ska. Just before our set yesterday we were watching Dance Craze on our bus before we went out to play so The Beat, Bad Manners, Madness, The Specials, Bodysnatchers, The Selecter obviously… But then we've been lucky enough to tour with Less Than Jake and the Bosstones and those were bands that we grew up going to see. We "happened" a little later than the whole 2tone thing but I did actually see The Specials in 99 but it was without Terry Hall but most of them where there. Ska-wide… pretty much all the good ones. (Turning to Justin) What do you think non-ska?
Justin: Punk Rock bands oviously, we originally toured with Rancid. The Beach Boys… Cock Sparrer…
Kevin: That's a good one! We rip a lot of them off.
Andy: Over the last few years Tim has worked with Jimmy Cliff on Rebirth, collaborated with tons of musicians with his Tim Timebomb and Friends project and has had a lot of involvement with the Interrupters in both producing and collaboration. What is it like working with him and how does the experience compare with working with other musicians?
Kevin: As a band, he's the only producer we've ever worked with. It's such a good fit because he's a "band" guy and he comes up from playing in bands. He sees the bigger picture for us. He's not as "in the tornado" as we are, so to speak. He's really good at steering us in the direction we want to go in. As a producer he's really involved in helping us with range and making sure our song-writing is on-point, but also making sure we don't get too "in our heads," overthink stuff, ruin something perfectly good because we're thinking too much about it.
Andy: The Interrupters have lots of lyrical content that reflects an attitude of general government distrust and the need to overcome oppression. The political climate of the past decade has no doubt inspired these lyrics as I'm sure the current election will have an impact on new songs. Beyond pure reaction to today's society/politics/etc., what message do you want to communicate to your listeners? What do you feel is your responsibility with affecting change?
Kevin: Well, I think the most important thing to us, first and foremost as a band, is just to put out a "fun" vibe and just have a place where people can have fun because we do address a lot of issues because there's a lot of stuff going on in the world, a lot of division, a lot of pushing and pulling but at the end of the day, we all have to share this planet. I think having a fun vibe, not taking it too seriously, but being aware is important. And yeah, like you said, in the last 10 years and even right now, there's a lot of stuff that… we've made jokes that if Donald Trump becomes president, our third album is pretty much done and we'll be the biggest band in the world. We'd have plenty to write about, you know! I don't think we're reinventing the wheel punk rock-wise as far as distrusting the government. I think a bigger part of our message is community, family, unity, diversity, loyalty. All the stuff that makes punk rock what it is.
Andy: I can definitely see that. Beyond the brotherhood in the band, you sing about family. I also see that a lot of what you guys do is not "put yourselves in a box.."
Kevin: It's hard not to put yourself in a box when you're dressed like this. (laughs). But at the end of the day we want everyone to be able to enjoy the music not just a certain type of political thinker. That's the beautiful think about music. It's for everyone. You can interpret it however you want. If you like it, you can turn it up. If you don't like it, you can turn it off.
Andy: Your newest full length album "Say it Out Loud" just dropped on June 24th. I actually have it in my backpack…
Kevin: (pointing to Justin) He's the guy on the cover, look! (Justin poses like he does on the cover)
Andy: How would you describe this new album? What can listeners expect?
Kevin: I think if you liked the first record you'll like this one. We've grown as a band, spending more time together on the road, and playing shows, meeting other bands. We touch upon many of the same topics from the first album but I think this one's a little more broad. Maybe we touch upon a few more topics than the last one but still our vibe is fun, "dance-y," punky ska. I think you'll dig it.
Andy: What are some of your favorite tracks from this album?
Justin: Well my favorite track is "She Got Arrested." It seems to be more of a universal favorite among some of the fans as well.
Kevin: Yeah – We've been playing that one out a bunch and it seems to be getting a really good response. It's a fun one. My favorite track, and I might be a bit biased, is called "The Valley" and it's about where we live and where we're from which is the San Fernando Valley in Southern California. It was fun because all of my favorite bands name-dropped their neighborhoods so I said 'we need a song where we can name drop streets in our neighborhood' so we finally got to do that. And we got our dad to play trombone on it and he's from the Valley too so… cool, yeah – check that one out!
Andy: What's your favorite movie?
Justin: Godfather Part II
Andy: What's your favorite reading material.
Kevin: Whatever is on my iPhone. I guess social media.
Andy: What's your most awkward moment on-stage?
Justin: Silence.
Kevin: I'm going to take that one too – lots and lots of feedback.
Andy: Phobia?
Kevin: Heights.
Justin: I don't know! I guess I don't really think about phobias.
Andy: Favorite academic subject in school?
Kevin: My favorite was English because you got to do creative writing stuff.
Justin: Mine was government because you got to learn how it all worked so you could see through all the bullshit.
Kevin: From the perspective of the school district! (laughs)
Justin: Well yeah but then you go out and research and figure it out for yourself.
Kevin: Yeah – at least they give you the tools to figure it out for yourself.
Andy: Meat or Potatoes?
Kevin: Meat!
Justin: Potatoes!
Andy: Beatles or Stones?
Kevin and Justin (simultaneously): Beatles!
Andy: Cats or Dogs?
Justin: Oh – definitely dogs! Can I re-answer the 'Beatles or Stones' question?
Andy: Sure.
Justin: Beach Boys! (Laughs)
Andy: Stage or Studio?
Justin: Stage. I spend a lot of time in the studio but the stage it where it happens!
As a follow-up to the interview, I have listened to "Say It Out Loud" all the way through a few times and concur with Kevin that "She Got Arrested" is one of the best on the album. Besides "She Got Arrested," some of my other favorites include "Babylon," "Phantom City," "By My Side," and "You're Gonna Find a Way Out." That said, the new album from The Interrupters is an excellent followup to their freshman record and no song should be skipped (on either album)! If you haven't already gotten your hands on a copy of the album, click here to order yours!
Stay tuned for Part 3 of SKAspot's Warped Report where we catch Reel Big Fish's and Beebs' sets, check in with Beebs and B-Lay for an interview and meet up with Cody and Dan from Set it Off.
Check out The Interrupters' Website.
Check out The Warped Tour Website.
Check out more photos from the Warped Tour in St. Pete in the SKAspot Warped Gallery.
Read SKAspot's 2016 Warped Report Part 1
By
Andymanj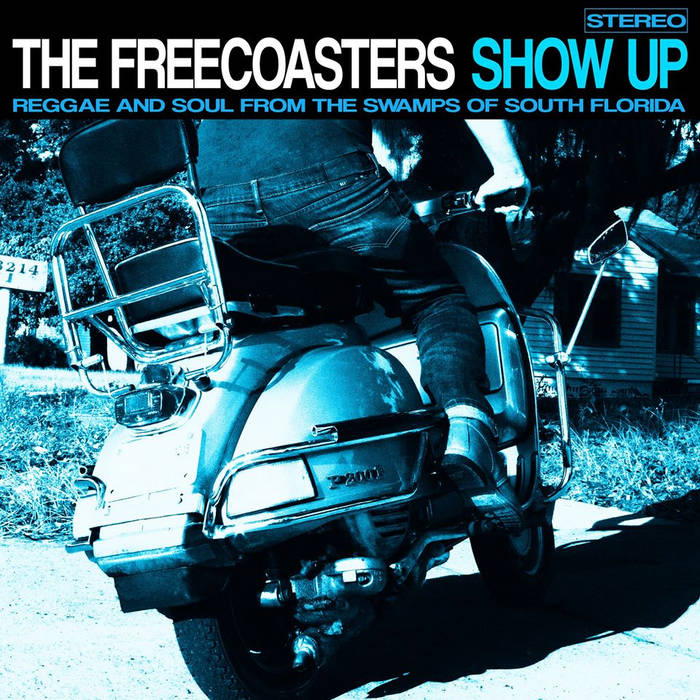 (Originally posted April 11th, 2016)
I may be biased but my current favorite female fronted ska, reggae and soul band just happens to be local. Over the past two or so years I've been fortunate enough to get to know John, Claire, Saul, Scott and David, a magical configuration of five talented musicians from Southwest Florida born from the ashes of the late Fort Myers ska band Brentford Sound. I first got to know the band through my involvement with the Citrus Records compilation, "Florida Ska: Closer Than You Volume 3." At that time, the Freecoasters were just getting started but it was clear during their performance at the CD release party that this quintet was special. Fast forward a couple of years and the long-anticipated "Show Up" is finally here!
The first word that came to mind after first hearing the album from beginning to end was "solid." From the get-go "Keep Moving" sets the tone for a collection of recordings that showcase the talents, incredible chemistry, stamina and soul in this band. No detail is spared when it comes to the meandering melodies entangled in booming b-lines and incessant beats. Each track is a symbiosis of sound, a multi-layered wilderness of toil and emotion that refuses to subside.
Though I'm impressed with the album as a whole and it's difficult to single out specific tracks,"Bring It On Back" and "I Can Sleep When I'm Dead" are two of my favorites on "Show Up." There's a certain attitude about these two tracks that makes is difficult to resist bobbing my head. That said, every song on the album has a physiological effect. You can't not dance! But on a deeper level, I feel that "Show Up" is an amalgam of passion and experiences, struggles, hope and determination.
Their first full length album was produced by Jesse Wagner of the Aggrolites who subjected the band to what they describe as "reggae boot camp." To launch the album, the band embarked on a Kickstarter campaign last Summer and a mid-summer tour with no breaks. Their campaign was a big success with over a hundred donors helping the band achieve a stretch goal of releasing the album on vinyl. Of course, after hearing the album or, even better, seeing the band live, their success is no surprise! Check out "Show Up" at https://thefreecoasters.bandcamp.com/.
By
Andymanj
(Originally Posted August 25th, 2015)
Do you like to give a new album a listening to in the order in which it was produced while resisting the temptation to skip to the track that made you pick up the album in the first place? If so, General Tso's Fury has a sweet reward for you in it's newish album, "Where Has the Music Gone." I say "newish" for the fact that a fan favorite, "Cereal Time," the catalyst track that might drive people unlike the aforementioned to buy the album and jump to track 5, is already a couple of years old. Of course, in General Tso years, their tracks never grow old and neither will this album!
So let's do this in order. Track 1: "Hypertension." The obligatory "Set the tone" tune for the album does just that. High energy. Fury, if you will. From the get go. Ama-zingy guitar on this one and some insane drum action certainly helps the song live up to its name. Of course hypertension is a condition which may lead to a heart attack and, along with the fiery brass on the second track, "I Look Better When I'm Naked," your heart is already pounding and there are still 11 more tracks to go. We are in trouble!
GTF continues to deliver on the promise that we're in for an ass-kicking both musically and lyrically in its declaration of hate for our friends, pets and home appliances in the third equally heavy hitting track. They just don't let up!

Or do they?! "Fist Bump" lightens the mood a little and provides a moment of release from the headlock GTF has on us in the first 3 tracks. I love the "saucy" horns on this one and the guitar solo that happens around a minute and 45. This brings us to the song that most have heard prior to this album, "Cereal Time," another light-hearted catchy ska jingly tune that reminds me Suburban Rhythm for some reason. You can't help but smile at the promise of heaven if you bring Jesus a box of cereal when you arrive at the pearly gates. Thanks for the heads up GTF!
The momentary lift is soon over as hell-fire ensues for "Spoiler Alert." This one seems to follow a similar blueprint to "These Shoes" from GTF's first EP. An overall quick tempo throughout that intuitively transitions to a slower syncopation overlaid with "tell it like it is" vocals and heavy trumpet about three quarters through the song.
"Q & A" showcases the vocals more than other tracks on the album. Meanwhile the tightness of the horns and the alternation between a quicker ska beat and a slower groove make this one of my favorites. Suddenly a soundbite from one of my favorite movies, "Office Space," welcomes track number 8, "Joel Sux," a snarky celebration of the irresponsibility of GTF's lead guitarist. Starting with some quick paced punk fanfare and building into some light, fluffy ska about midway through, this song is both bad-ass and fun, lyrically and instrumentally.
"Rock, Paper, Scissors" is a bit of an excursion on this album that transports you back to third-wave land with and then they get all hardcore with an insane guitar solo. This one is great showcase of the eclectic talent and diverse styles that characterize General Tso's Fury.
"Where Has the Music Gone" is full of surprises and the tenth and eleventh tracks are no exception. "Suck It Up" rolls out with some Ben Folds-esque ivory banging and some reinforcing lyrical cadence that progresses into some faster paced rock. Just when you're scratching your head thinking "Where did that come from?," they jump in with another twist in "Cougars." This song is a hodgepodge of styles that provokes alternation between head nods and swaying. It feels a bit schizophrenic.
"U-turn" puts the album back on track while giving the horns a bit of a break. General Tso's Fury burns it up with a nice quickie of a punk song just before closing out with a ska-core anthem, their title track. "Where has the Music Gone" is an incredible finale that encapsulates much of what I love about this band: melody, lyrics, power. General Tso's Fury has certainly "turned homicide into art" with this release which , from beginning to end, is one hell of a tantrum with ample twists and turns to keep you guessing "what's next?"
Check out General Tso's Fury on Facebook at https://www.facebook.com/GeneralTsosFury
Give the album a listen (and buy it) at https://generaltsosfury.bandcamp.com/album/where-has-the-music-gone
By
Andymanj
Wednesday, May 27th, 2015
By Jim Bolt
SKAspot Contributor and Founder of KSSU (Sacramento State University)
Friday night, 1980s college radio darlings, and ska legends, the English Beat played to a crowd of nearly 1,000 fans at the Gothic Theatre in Englewood, Colorado. The show was a non-stop dance party that kept everyone moving and grooving (some were even skanking).
The English Beat works the crowd into a dance frenzy at the Gothic Theatre, May 22, 2015.
The new English Beat line up is incredibly tight and never (you see it coming, don't you?) misses a beat. From Dave Wakeling's soulful storytelling and King Schascha's high energy toasting, to the wailing sax, precision drumming, bouncy keys, and first rate bass and guitar work, there is just no standing still.
The band played classic Beat songs, opening with "Rough Rider" and skillfully working through other favorites like "Tears of a Clown," "Twist and Crawl," "Save It For Later," and "Whine and Grind." General Public tunes like "I'll Take You There" and "Tenderness" were also included, along with a few songs from the forthcoming album Here We Go Love.
The new songs were fresh and lively numbers that fit nicely into the English Beat tradition. The sound was clearly identifiable as the band's trademark brand of ska, yet Wakeling's pop sensibilities gave the tunes a modern and contemporary sound. The Beat's music is as relevant today as it was back in 2 Tone era, ska revival days. College radio and commercial, "alternative" stations would do well to reintroduce the band and incorporate the new material into the rotation. Legions of new fans would inevitably follow.
A non-stop King Schascha and Dave Wakeling keep the crowd jumping.
Before the show, I had the chance to sit down with Dave Wakeling and discuss the band, the new album, college radio, and a few other topics.
Dave, thank you so much for being here.
My pleasure...
I first heard your music in 1983 and fell in love with it. It was discovering the likes of the Beat, and other punk, ska, and new wave music that eventually led me to book bands and even help start a student-run radio station while in college. The station, KSSU (Sacramento State), will be 25 years old next year.
Fantastic...and a lot of college radio stations wound up carrying the flag, didn't they? 'Til the '80s became like a golden oldies option.
I.R.S. (the now defunct record label) didn't play the top 40 marketing game, so college radio was very important to us. We were number one in the college charts, but we were jealous as hell of all the other bands roaring up and down the top 40.
A number of the '80s bands have been deemed one hit wonders and some people have focused on how much hair dye they used. The result was that many of these bands became marginalized as goofy, golden oldies types. I think the English Beat wound up retaining its legitimacy by not being over exposed.
Congratulations on the forthcoming album. It's great that it was crowd-funded through Pledge Music. Previous English Beat themes have been both political and social. What topics can we expect from the new album?
Thank you...you can expect similar themes, but with a newer sound. The goal is to make a record that doesn't sound like an English Beat record would have sounded then. The new album is called Here We Go Love. It's about love as a theme, maybe something tangible and it's also about how life goes on. New songs include The Love You Give...lasts forever even when you're gone and How Can You Stand There?...when all around you is a lie or how can you stand there and not dance to this irresistible beat of life? Dance and war are conflicted...perfect. We've also tried to be a little scurrilous!
What do you want the new and prospective Beat fans to know about you and the band? What would you say the English Beat stands for? And, don't tell me love and unity.
Basically...at the end of the day, it's a dance band. We have always been a dance band. It's about fun and having a good "knees up." But, we've always been about love and unity.
Late night show appearances can be powerful for new and reemerging bands. Any plans?
"Yes, let's do it! We'll do them all!" [laughs]
He then asked me to call Jimmy Fallon and Jimmy Kimmel to get him an appearance. I suggested Saturday Night Live and he agreed to all of them. Jimmy, Lorne, Jimmy, are you guys in?
You've had songs included in soundtracks in the past and many of your contemporaries from that era have been featured in recent ads (Pogues, Clash, Depeche Mode, etc.). Any plans to pursue the licensing realm?
I've always thought Save It For Later would be great for a pension or a retirement fund. [laughs]
Feelings on Spotify, Pandora, other streaming services?
NONE! [laughs] No...really, I do think they are great from a music discovery perspective. It's amazing to me how young people find music these days. They can really drill down into music on the internet. It's very different from the days of going to the record store to find out what the cool kids were listening to.
On cancer charity events:
Dave talked about the recent An Evening Celebrating the Who event with Pete Townshend, Eddie Vedder and others. The event was a charity benefit for the Teen Cancer America Organization.
The English Beat has supported a similar charity in the U.K. called Teenage Cancer Trust by contributing music to special compilations and releases.
Dave expressed his interest in doing a combined, online benefit for both charities, where he, Townshend, and Vedder could conceivably perform songs from each other's catalogs (including Save It For Later). "Maybe we each perform three songs...Pete can do four [laughs]. We could do it as a half hour online thing and we could back each other."
Pete? Eddie? Sounds like a great idea.
On the state of ska:
"One of the things with advancing years is that you forget the things that don't fit in with your own, employed legacy. I thought I would be more optimistic. I thought that the hippie, punk, tech revolution would have advanced the cause...I thought ska was the stairway to heaven...a platform for social consciousness. I don't know...I've become a bit more fatalist."
Dave certainly doesn't come across as a fatalist on stage. In fact, he does a fantastic job of still being an optimist through his shows, where he keeps dance, love, and unity in the spotlight.
Final thoughts:
Dave's life-saving advice for young ska bands: 1) Don't fly in small planes, 2) Don't hot tub alone, and 3) Don't do heroin (or any drugs) alone.
He would also like a portable hot tub for touring. This could be a great sponsorship opportunity!
________
Visit The English Beat's website for information about their music, upcoming tour dates and more - http://englishbeat.net/
SKAspot Contributor Jim Bolt helped launch KSSU, Sacramento State University's student-run radio station, over 20 years ago. Here's an article about the 20 year reunion of the station in 2011 -http://sacstatealumni.com/SacStateConnection/0611KSSUReunion.html
By
Andymanj
(Originally posted April 24th, 2015)
"From Far," the newest release from Pilfers, is appropriately titled. Fans of the band have waited 16 years, "far" too long. For those of you, like me, who loved the band that captured the spirit of the third wave through its fusion of ska, reggae, hardcore and metal, the new release does not disappoint! The original lineup, minus their original trombonist, Vinny Nobile, still manages to weave varied tempos, bouncy b-lines, toasty vocals and innovative melodies into a sound unlike anything you've heard. For the uninitiated, Pilfers pack a punch. Expect the unexpected!
Right off the bat, the first track sets the tone. "Nothing's Ever Good Enough" kicks off the album with driving rhythmic riffs interrupted by a punchy "raggacore" chorus. The "surprise element" is a big part of the Pilfers trademark and continues to be a theme throughout "From Far." This brings me to the second song, the title track of the album. "From Far" is an aural autobiography that takes the listener on a journey from 97 underground NYC to "across the country" and beyond. Coolie Ranx tells their story through a steady toast in each verse. Meanwhile, the accelerating tempo and crescendo of the instrumental build up to an explosion in the chorus and some "Big Ups" to the OPC (Original Pilfers Crew) and bands worldwide.
Tracks three and four provide a showcase of Pilfers' strings. "Done Nothing Wrong" features some great guitar work from Nick Bacon while Anna Milat-Meyer's climbing bass arpeggios and the cameo by Bosstones' trombonist Chris Rhodes make "Easy Man" one of my favorites of the album. Track five, "Follow You Blind," is a slight excursion and almost seems to serve as an intermission for the album. The slowed steady beat brings your heartrate down but not for long. As soon as the eye of the storm passes, "Drowning in You" resuscitates the familiar surge that is Pilfers with an added surprise of guest female vocals from Patricia Verdolino from Metro Stylee.
As if caught by surprise in the first half of "From Far," "Sound the Alarm" is the delayed reaction announcement that "Pilfers are back!" At first listen this song seems out of place and that it should come early in the album. However, considering the story of the Pilfers, track seven is where it should be, as if we didn't see them coming.
What I love about "Conscience Never Bother Them" are the accents of Kevin Batchelor on trumpet crowning the guitar and heavy bass encapsulated within the syncopated beats of James Blanck on drums. Like "Follow You Blind", tracks nine and ten, "Lately" and "History of Love" provide another respite from the high energy of the preceding songs. The steady slower beats of these tracks are short lived, however, as "Let it Rain" brings back the heavy, fast paced storm of sound fading out with "Jack's Ashes."
"From Far," as expected, defies expectations. While the same blood that pumped through the veins of "Chawalaleng" continues to flow through "From Far," the new Pilfers release is a unique experience. With no loss in momentum from the band's youth, Pilfers has come far and I look forward to seeing where they go next.
Visit http://pilfers.storenvy.com/ to purchase "From Far" and tune in to SKAspot Radio at http://skaspot.com/radio to hear music from Pilfers and more!
By
Andymanj
Originally posted on November 2nd, 2013.
I believe I heard the word "SKAwesome!" more than once at Jannus Live on Saturday, November 2nd. That one word summed up my experience as I had the opportunity to interview one of the bands that inspired my interest in ska in the first place. On Saturday afternoon I sat down with guitarist and front man, Aaron Barrett, and drummer, Ryland Steen, to discuss a range of topics from new ska, their influences, favorite cartoons, guilty pleasures and even Aaron's failing grade in 10th grade English that led to his picking up the guitar. The conversation was laid back and, shaking off the part of me that saw these guys intangible as rock stars, I felt strangely like I was chatting with some old friends. At the conclusion of the interview, the duo was so kind as to record a station id for the Ska channel on SKY.fm (Now SKAspot Radio) and recorded an opening for the school news at the middle school I work at by day (I teach TV Productions).
The Interview
The Show
Beebs and Her Money Makers kicked off the festivities with a high energy set including some dance-worthy ska, soulful vocals, tight horns, confetti and a giant robot! It's rare that you find a band with so much pizzazz in costume, stage presence and sound but that's what we got with BAHMM! Aaron Barrett even joined the band on stage at one point. With my photo pass, I was able to sneak around in front of the pit as well as the side of the stage to catch some footage and photos but the entire time I felt like dropping my cameras and dancing.
Following Beebs was The Beautiful Bodies, a female fronted punk band with incredible energy and talent. Singer Alicia Solombrino got up close and personal with the crowd, climbing up on the barriers between the stage and pit and serenading the crowd. While Beebs got us dancing, the Beautiful Bodies got our blood pumping. This was the perfect lead in for Goldfinger!
The Breaking Bad theme played as Goldfinger took the stage, foreshadowing the frenzy that would soon ensue. The crowd roared as front man John Feldmann addressed the audience with a proper bow and the set started. Of course the energy of the set was enhanced by MXPX's Mike Herrera on bass. The band played their most popular songs like "Superman," "Here in Your Bedroom," a cover of Nena's "99 Red Balloons" and solicited some crowd participation for "Mable" which brought at least 20 people out of the pit and onto the stage. It doesn't seem that the band has aged a bit since the 90's as they still managed to keep their fast pace on stage from start to finish. By the time Goldfinger concluded their set, the venue was packed and prepped for the grand finale, Reel Big Fish!
The Reel Big Fish set was delicious. Starting with one of the first RBF songs I remember hearing "Everything Sucks" and meandering through their 2 decades of discography, they delivered! I was able to hop up on stage for a few songs and witnessed the energy from their perspective. "Snoop Dog, Baby" had the crowd bouncing and heads bobbing while "In the Pit" created a cascade of furious skanking into a circle pit whirlpool.
As expected, the band played it's classic radio hit, "Sell Out" but mixed in some new with the old. There was a cover of Carly Rae Jepsen's "Call Me Maybe" and the band's classic cover of A-Ha's "Take On Me" as well "The Set Up" and "She Has a Girlfriend Now" with Beebs singing the female vocals of the duet. At one point the band teased the audience by introducing their next song which is about their favorite beverage, announcing "Tequila," "Red Wine," "Pina Coladas" and "Margaritas" along with brief covers of classic songs about those drinks (I'm sure you can figure out which songs). Finally, they played their classic fan favorite, "Beer."
Somewhere in the set they played "Don't Stop Skankin" off of 'Candy Coated Fury' which always reminds me of "One Step Beyond" by Madness. On Saturday night the song had new meaning. After meeting the band and reflecting on my own experience of ska music over the last couple of decades, one word that comes to mind is "longevity." Ska has survived to please several generations. Just like the musical genre associated with them, Reel Big Fish is here to stay despite the "ebbs and flows" Aaron and Ryland described in the interview.
Reggae Steady Ska
Summerjam 2018 – What's in it for me?

27 Jun 2018, 11:14 am

You haven't got your tickets for Summerjam 2018 already? You can still get them here at Ticketmaster. If you follow Reggae Steady Ska, then I expect you to love a special kind of reggae music. You want the original sound that has some connection ...

Supernova Ska Fest 2018: 4-question interviews

15 Jun 2018, 11:15 am

The 2018 Supernova International Ska Fest brought some of the best ska bands on the continent to the 1781 Brewery in Fredericksburg, Virginia (an hour south of D.C.) for two days of soul-reviving, rain-soaked ska. Three if you count the Friday night ...

Reggae in the Desert 2018, Las Vegas – June 9

7 Jun 2018, 11:16 am

Reggae fans are in for a treat as Las Vegas will again be hosting Reggae in the Desert on June 9. The annual festival, which began in 2011, is now in its 7th year and will be held at Clark County Amphitheater in Downtown Las Vegas. Reggae's Finest to ...

Album review: The Giver by David Hillyard and the Rocksteady 7, featuring Sean Wheeler

31 May 2018, 8:16 pm

In the ultimate ska band made up of active players, Dave Hillyard would be my choice for tenor sax. He's certainly been around. The Slackers, Hepcat, Stubborn All-Stars, The Bluegreens, Rancid, Donkey Show … his incomplete, 30-album discography on ...

New Single from The Big Takeover

9 May 2018, 10:33 am

New York-based The Big Takeover has released "Rainboots", an infectious little number that pairs perfectly with pool-side drinks and warm summer nights. Check it out on Spotify, buy a download on iTunes, or if you live in the US and vinyl is your ...
Nude Beach Ska Podcast
Nude Beach Ska Podcast - Episode 49

15 Jul 2018, 7:40 pm

The 49th episode! I (Jack Brew) am here to play you some of my favourite ska, reggae and ska punk tunes from around the globe! Today my featured cd is Intermittent Waves by Monkey Monkey Hitchin' a ride The Freecoasters - Tuscon, AZ Catch-it Kebabs - ...

Nude Beach Ska Podcast - Episode 48

1 Jul 2018, 8:00 pm

The 48th episode! I (Jack Brew) am here to play you some of my favourite ska, reggae and ska punk tunes from around the globe! Today my featured cd is Solar Flares by The Georgetown Orbits The Georgetown Orbits - Keep your chin up Jackie Opel - Push ...

Nude Beach Ska Podcast - Episode 47

19 Jun 2018, 9:24 pm

The 47th episode! I (Jack Brew) am here to play you some of my favourite ska, reggae and ska punk tunes from around the globe! Today i am bringing back the featured cd... feature??? i am gonna play for you a few tracks from a specific album that is ...

Nude Beach Ska Podcast - Episode 46

3 Jun 2018, 7:46 pm

The 46th episode! I (Jack Brew) am here to play you some of my favourite ska, reggae and ska punk tunes from around the globe! Today i am concentrating on the awesome line up that is playing Victoria Ska & Reggae Festival 2018 in a couple of weeks in ...

Nude Beach Ska Podcast - Episode 45

15 May 2018, 9:45 pm

The 45th episode! I (Jack Brew) am here to play you some of my favourite ska, reggae and ska punk tunes from around the globe! Today i am concentrating on the awesome line up that is playing Supernova Ska Fest 2018 in a couple of weeks in Virginia ...
Duff Guide to Ska
"Ska: A Music, Not a Typo" (Trouser Press)

15 Jul 2018, 7:49 pm

A few weeks ago, we picked up six back issues of "Trouser Press" at the Archive of Contemporary Music, during one of their sales. While this incredible music mag was primarily concerned with covering New Wave in the late '70s/early '80s, it did offer a ...

Duff Review: Heavyball "Black Eye Diaries"

13 Jul 2018, 9:51 pm

Magnetic North MelodiesCD/LP/digital2015(Review by Steve Shafer)Heavyball's second album When Can You Start? was one of our favorite albums of 2017 (read The Duff Guide to Ska review of it here) and is still in frequent rotation on our turntable. So, ...

Duff Guide to Ska Fast Takes: Caz Gardiner, The Far East, The Classy Wrecks

6 Jul 2018, 1:39 pm

(Reviews by Steve Shafer)The always amazing Caz Gardiner (ex-Checkered Cabs/ex-Caz and the Day Laborers) has an excellent new(ish) single out called "Stop" (digital, Carbonero Records, 2018)--which is a full-on funky soul track about someone who ...

Duff Guide to Ska Fast Takes: King Kong Girio, Boomtown United

4 Jul 2018, 4:00 pm

(Reviews by Steve Shafer)Before releasing two new, forthcoming EPs he's produced for Susan Cadogan and his own King Kong Four, King Kong Girio (ex-King Apparatus) has issued a sensational new single "When The Needle Drops" (digital, Bandcamp, 2018) that ...

Duff Review: The Selecter "Live at the Roadhouse"

28 Jun 2018, 1:20 am

DMF RecordsCD+DVD/Double LP+DVD2018(Review by Steve Shafer)Various incarnations of The Selecter have released live albums over their 38+ year existence (in particular, check out 1992's scorching Out On The Streets with Neol Davies, Pauline Black, ...
DThrog Ska Review
Oooops, there appears to be a problem with this feed!